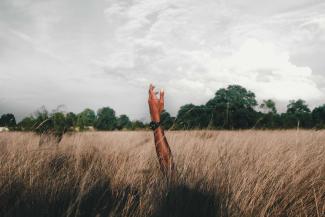 Unwrap a Holiday Free of Financial Stress
The stockings have been hung, candles lit, lights strung, and carols sung when the financial stress begins to peek behind the corners of brown paper packages tied up with string. Everything's shiny and cozy but you can't extinguish that tiny feeling that you went way over budget this holiday. You're not alone; holidays are a particularly financially stressful time for many. The average American spends $700 on holiday gifts and goods bringing the total to crest over $465 billion, according to the National Retail Federation estimates.
 All the gifts add up quicker than the credit card statements can roll in and even the cost of the casseroles and cookies you're bringing to the office holiday potluck can be a frustrating star on top of the extra expense tree.
With just a few easy changes to your holiday spending habits you can cut back the deep dive your checking account usually takes. This way, you can spend your New Year's resolution on personal development instead of the usual freak out and then vowing to save and spend smarter.
Make a budget…and check it twice. If you're an avid list maker there is nothing more rewarding than making the list of all the things you want to buy your loved ones. But, when you make a list you automatically want to put more and more amazing ideas on the list which leads to, you guessed it: overspending. Set your holiday budget of how much, total, you want to spend on gifts. Break it down by each person and keep in mind that often it doesn't matter so much of what the gift is as much as the effort put into it.
Handmade is a holiday hero. Speaking of effort, people love receiving present that didn't just pop off the conveyor belt in China. If you woodwork, quilt, paint, or are even just really good at making Pinterest-worthy crafts don't be shy away from using your talents on your loved ones' Christmas presents. You make something Instagram worthy and they get something from the heart.
Cut back on the "expectations" that don't bring you joy. So much of the holidays is the socio-cultural norms that were ingrained in us growing up. Cut back when and where you can. For example, if you really hate sending holiday cards with the latest picture of the family and short (oh so sweet) letter about all the high points in the family then DON'T! Send a thought email or e-card and save on the cost of printing pictures and postage.
Additionally, now's a good as season as ever to evaluate the financial cost of your holiday traditions. If your end of December ritual is to take the entire family out for a day on the ski slopes, maybe that could be changed up for a cheaper ice skating excursion or decorating cookies together.
Secret Santa is a super saver. For large families have everyone pull a name out of a hat and that person is then the only one you have to buy gifts for. This ensures that everyone receives a personal gift or multiple small gifts, but then also not everyone is spending big bucks and time on trying to find something for everyone.
Shift your paradigm: credit cards are short term loans. If you think of your credit card like a short term loan the immediacy to pay it off can feel greater. Also, pay close attention to interest rates if you do choose to use credit cards to pay for holiday spending—choose a card with a very low interest rate.
Like most things in life, procrastination doesn't pay out. Last minute gifts and cards are always going to be a little pricier, as will be the first-class expedited shipping you'll need to get it there. Start your holiday shopping early and get the gifts going to your relatives across the country (or world) first.
Resources
*This content is developed from sources believed to be providing accurate information. The information provided is not written or intended as tax or legal advice and may not be relied on for purposes of avoiding any Federal tax penalties. Individuals are encouraged to seek advice from their own tax or legal counsel. Individuals involved in the estate planning process should work with an estate planning team, including their own personal legal or tax counsel. Neither the information presented nor any opinion expressed constitutes a representation by us of a specific investment or the purchase or sale of any securities. Asset allocation and diversification do not ensure a profit or protect against loss in declining markets. This material was developed and produced by Advisor Websites to provide information on a topic that may be of interest. Copyright 2021 Advisor Websites.