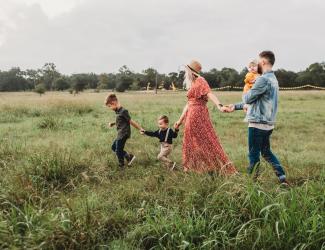 Building Your Family Protection Plan
Life is full of uncertainty and the best laid financial plans must account for the unexpected. The loss of a loved one is never imagined, but the loss of a bread-winner for the family should be considered when building a foundation for a secure financial future.  The hard truth is that, without proper life insurance planning, a family or business could experience devastating financial consequences.
Life insurance is a subject that many people try to avoid. Yet, there is no greater expression of love for a family, or no better demonstration of responsible planning than the purchase of a life insurance policy.  The fact is, that life insurance, with its many properties, can solve for several financial concerns that people have.
Taking Care of Loved Ones
At its core, life insurance is the safety net that most families need when the unexpected happens.  It provides the capital needed at the most critical time and ensures that the surviving members of the family will have financial security.  The loss of a bread-winner means the loss of income which was intended to provide for a certain life style and pay for important family goals. 
After the death of a bread winner, the family has immediate cash needs. There are final expenses for medical, funeral and probate expenses which could run into the thousands of dollars. There may be some debts that need to be satisfied. And, the family typically needs a lump sum of money to be able to get through the immediate future until everything is settled.
It is the ongoing income needs of the family that require the biggest injection of capital, and those needs tend to increase when a bread winner dies. And family goals such as college education don't suddenly disappear.
What's Your Life Insurance Plan?
Term Life:  Pure life insurance without a cash value account. The insured is only paying for the cost of insurance so the premiums are lower than other forms of life insurance. It's use is usually temporary, for a specific period of time, because, the cost of term insurance increases each year as the insured ages, which could make it prohibitively expensive at later ages.
Whole Life Insurance:  A permanent form of life insurance that combines a death benefit with a cash value account to build equity that can be used to offset the higher cost of insurance in later years.  These policies are used when it is determined that the need for life insurance may continue for a while.
Universal Life Insurance:  A cross between term insurance (low insurance cost) and whole life (permanent insurance) that provides the insured with greater flexibility over the amount of premium paid and death benefit amount. Cash values earn a fixed rate of return and the insured has more access to them.
Variable Universal Life Insurance: A universal life insurance plan that replaces the fixed interest cash value account with separately managed investment accounts offering the insured the opportunity to earn higher returns.
 Determining which is the best life insurance plan for you depends on many factors such as your needs, your age and health condition. The most important decision you can make is to buy the protection your family needs, then work with an objective financial professional to tailor a life insurance plan that meets your needs.
*This content is developed from sources believed to be providing accurate information. The information provided is not written or intended as tax or legal advice and may not be relied on for purposes of avoiding any Federal tax penalties. Individuals are encouraged to seek advice from their own tax or legal counsel. Individuals involved in the estate planning process should work with an estate planning team, including their own personal legal or tax counsel. Neither the information presented nor any opinion expressed constitutes a representation by us of a specific investment or the purchase or sale of any securities. Asset allocation and diversification do not ensure a profit or protect against loss in declining markets. This material was developed and produced by Advisor Websites to provide information on a topic that may be of interest. Copyright 2021 Advisor Websites.